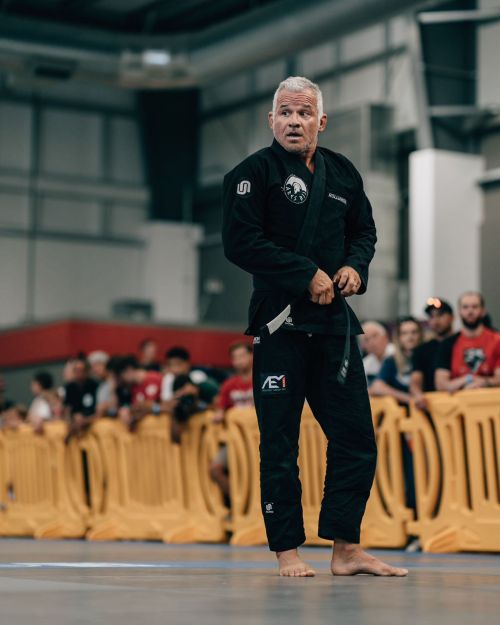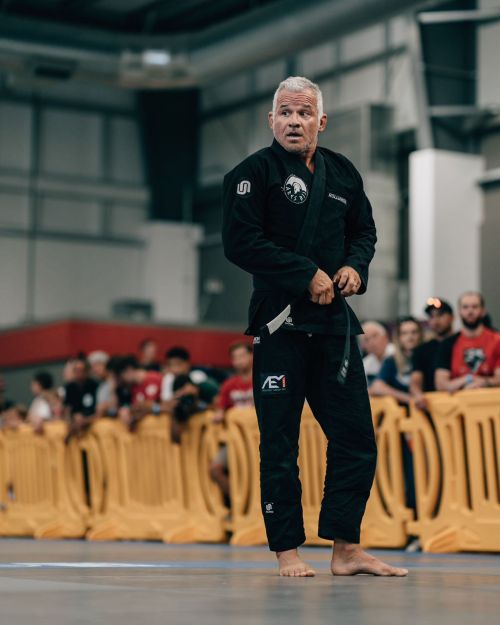 Alex Martinez
Alex is a Black Belt (First Degree) in Brazilian Jiu Jitsu under Professor Paul Nava.  He has been training and competing across the country since the rank of white belt.  Alex has won and been the runner up in many International Brazilian Jiu Jitsu Federation (IBJJF) tournaments as well as professional "Super Fights".  He has extensive experience as a kids coach, a fundamentals coach, and advanced techniques coach.  He received his Black Belt from Paul Nava and the Ares Brazilian Jiu Jitsu Association in September 2019.  As the head instructor of Ares East Mesa Brazilian Jiu Jitsu Academy, his goal is to make a positive change in the lives of his students and the community.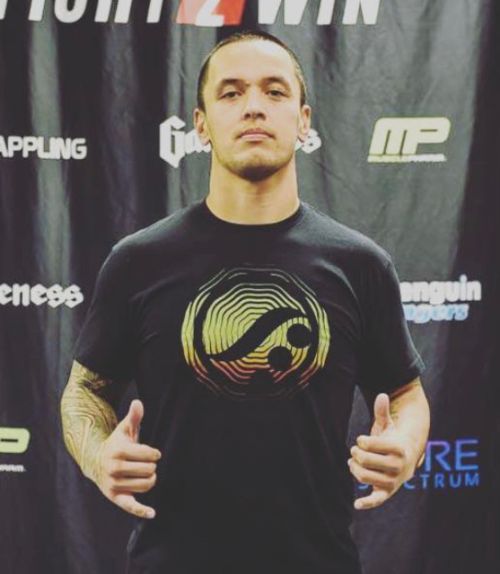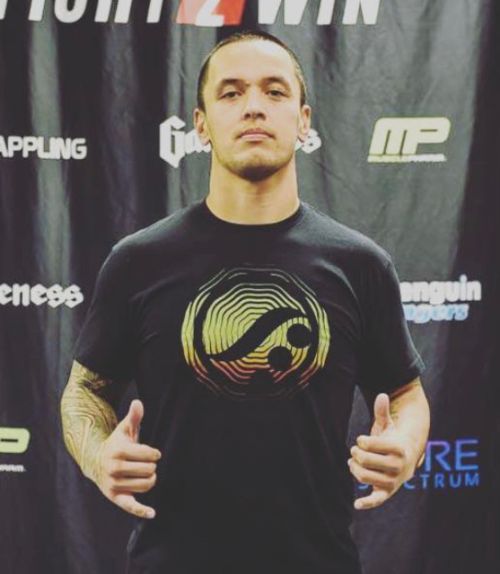 Koa Kalama
Koa has achieved a Black Belt (First Degree) in Brazilian Jiu Jitsu. He has competed and has medaled multiple times both in in-state and out-of-state tournaments as well as Pro-Fights – Fight 2 Win- No Gi. Koa will be coaching our Mixed Levels and fundamental No-Gi programs, which is currently scheduled on Tuesdays & Thursday evenings and Saturday mornings.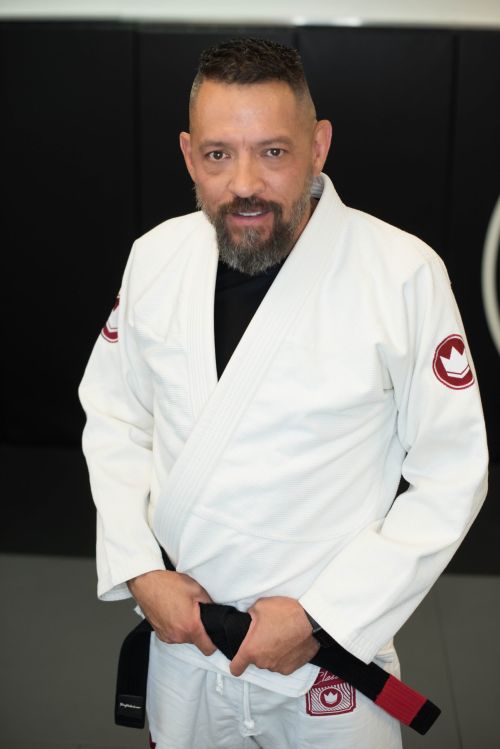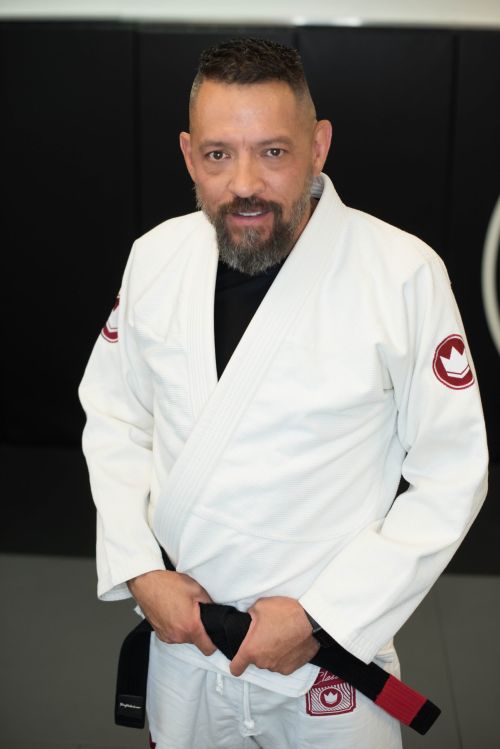 Tom Gaughan
I've spent 9 years in the Navy and that's where I started my martial arts journey. I took Muay Thai for 2 years but being consistent while underway was difficult. Shortly after transitioning to civilian life I started Jiu Jitsu at a Royce Gracie affiliated school where I received my blue belt. I was given an opportunity to relocate to the SF Bay Area and there I trained at One World Jiu Jitsu under Mike Prudencio where I received my purple belt. After a lengthy layoff (recovering from surgery, getting my MBA and being lazy) I relocated to Arizona and visited several BJJ gyms and am fortunate to have found Nava / Ares BJJ. I lost weight, got my mojo back and received my brown belt in July of 2020. I've always been a mentor and I love to teach. There are few things more life changing than Jiu Jitsu and I am honored to join the coaching staff at Ares East Mesa. It should be noted that I was voted "Most Likely to be the Nicest Guy You'll Ever be Submitted by" – NotLanta 2020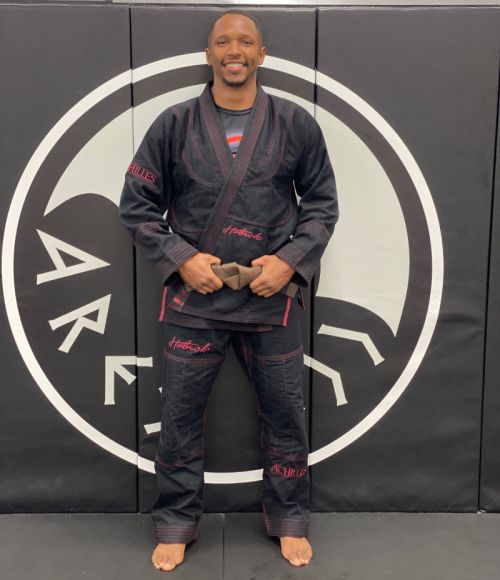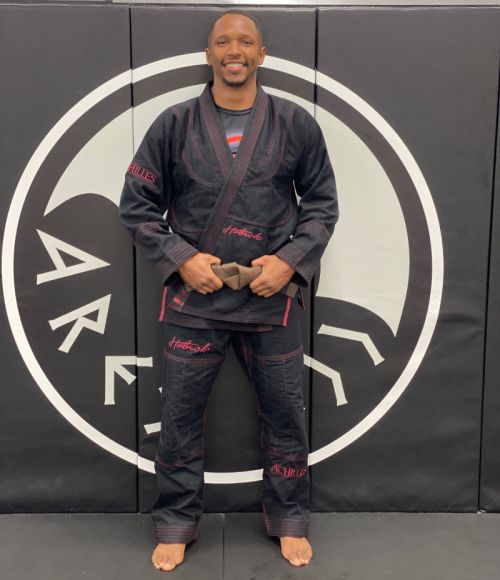 Aderito "Dee" Cardoso
Dee Cardoso holds the rank of Brown Belt in Brazilian Jiu-Jitsu. He was born in Lisbon, Portugal and his parents are from Praia, Cape Verde.
Dee first began training in 2014 at Elijah Brazilian Jiu-Jitsu in New Jersey with Tyrone Elijah, earning his Blue Belt during this time. He later moved to San Jose, CA, in 2018 and joined Caio Terra Academy under Vitor Paschoal, where he earned his Purple Belt. At the start of 2022, Dee relocated to Arizona and trains at Ares East Mesa at 6 AM with Alex Martinez.
Dee is passionate about passing on the knowledge he has acquired from the different schools he has trained at and teaching it to his teammates and students.
His primary focus as a coach is to help his students build strong fundamentals, be proficient in all positions, and master techniques at the level of a black belt with the understanding that there are no black belt moves, only white belt moves done at a black belt level.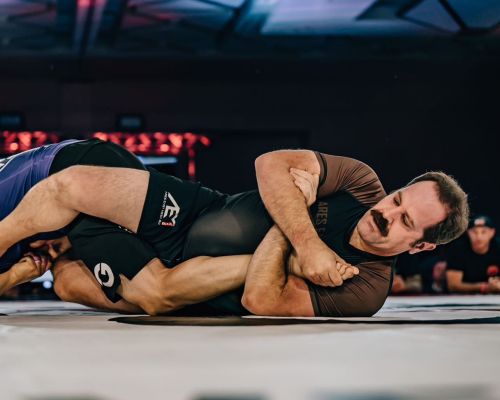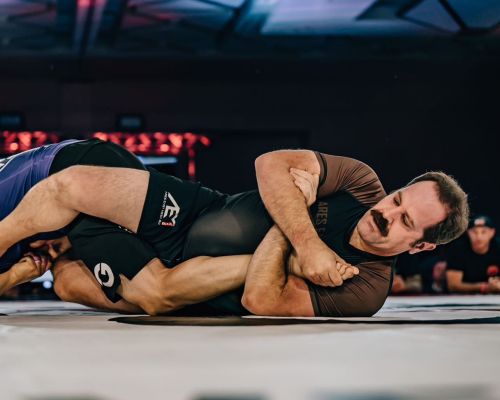 Colin Opper
I was born on the mean street of Eau Claire, Wisconsin. I started wrestling at the age of 5 and competed in folkstyle, freestyle and Greco-Roman style wrestling for the next 13 years. After passing on wrestling in college, I moved to the Milwaukee area for college. In 2006, a co-worker invited me to an open mat at the BJJ academy he trained at and I was hooked after one class. I began training under Henry Matamoros who would eventually become Wisconsin's first Brazilian jiu-jitsu black belt under Pedro Sauer. After taking a couple years off to focus on my rugby career, I started training BJJ again under Eric "Red" Schafer, another Pedro Sauer black belt. There I was promoted to purple belt. Life then brought me to Mesa, Arizona. After taking a couple years off to get my family situated in the desert, I began training again at Ares East Mesa BJJ. I earned my brown belt in 2022. I have competed all over the country with notable wins in Submission Hunter, Wanderlust Grappling, and Fight2Win. As a coach, I like to create an environment that allows creativity and engagement from everyone on the mats.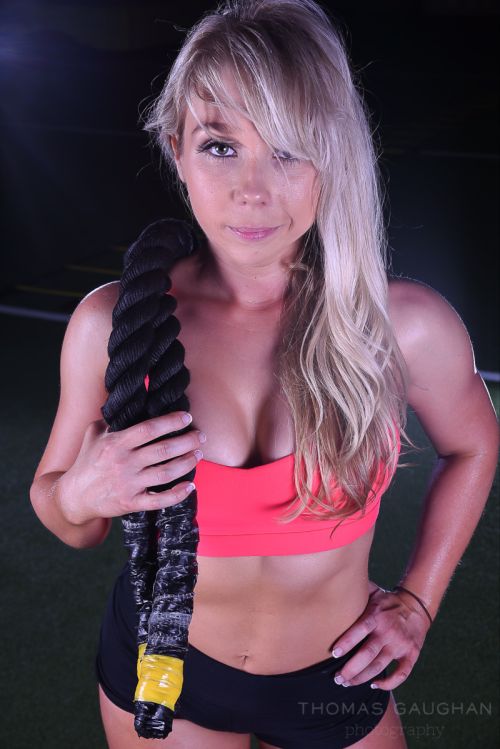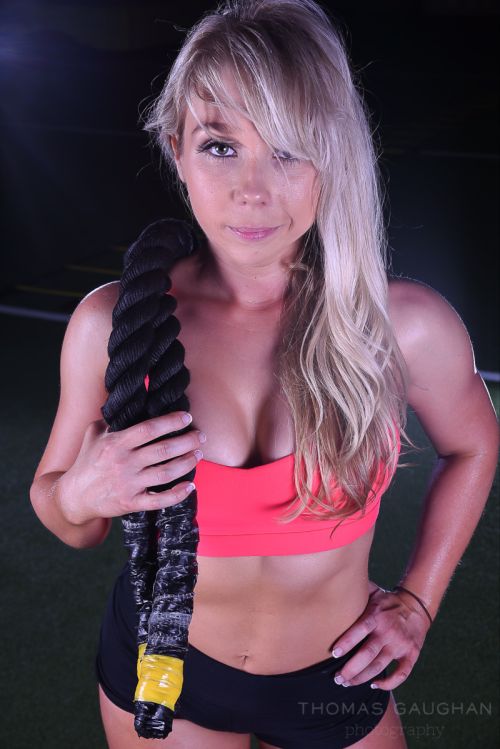 Tiffany Gaughan
Virginia born but Californian by heart my fitness journey started in 2008 when my fiancée and I moved across the country. I wanted to be in the best shape of my life for my upcoming wedding however, growing up a bookworm with very little desire to be athletic left me uncertain on where to start. I decided that trying group fitness classes would help give me some direction and was hooked!Leaving countless classes full of motivation and inspiration from the instructors I decided that this was something that I wanted todo. I want to show others that it doesn't matter where you start-you just have to start. I love showing other show to challenge themselves and just how strong they are both mentally and physically. My journey started over 12 years ago, and I continue chasing my fitness and helping others meet their goals. Experiences: Athletics and Aerobic Fitness Association (AFAA) Group Fitness Instructorand Nutrition certified. Schwinn Indoor Cycle Instructor NPC Bikini Competitor trained bycurrent Ms.Fitness Olympia Whitney Jones Crossfit and Olympic Lifting trained by one of the worlds top athletes Chyna Cho. These experiences have opened doors to allow me to become a MuscleEgg sponsored athlete and a BSN/Optimum Nutrition regional demo representative during my competing years. I'm also owner of Wanderlust Studio AZ and have done hair and makeup for tons of events andphotoshoots. Fun! You can find me training Brazilian Jiu Jitsu (current obsession!), teaching our exciting FitMethod classes here at Ares East MesaBJJ or doing a little hair and makeup on occasion!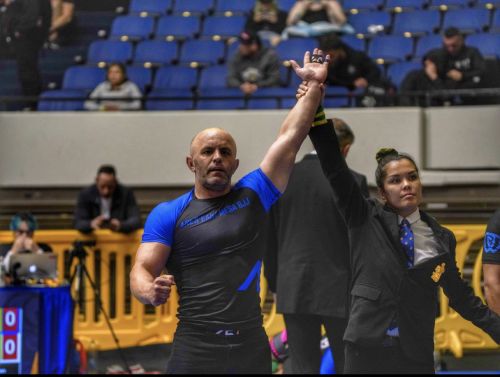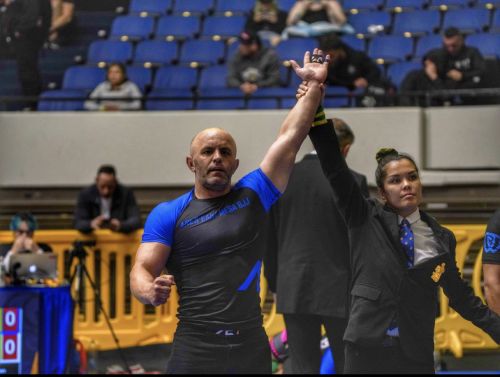 Chris Smith
I was born in Las Vegas, NV and raised in Gilbert, AZ. Currently, I am a Fire Engineer/Paramedic with Chandler Fire Department. I have a wife and a daughter. I started wrestling at 5 years old, and wrestled competitively in high school (Highland HS), college at Arizona State University, and United States Police and Fire Games. During my wrestling career, I achieved 5 individual state wrestling titles in 3 different disciplines; 4th place at Rocky Mountain Nationals, 1st place at El Cajon, one of the top 10 toughest tournaments in the country, 4x State placer, 2x East Valley Regional Champion, most takedowns in a season, part of Pac 10 championship team, Maroon and Gold Scholar athlete, winning record while at ASU, 2nd place at U.S. Police and Fire Games. Competitively, in jiu-jitsu I won double gold as a blue belt, at Arizona Masters Championship. I'm looking forward to coaching everyone in their wrestling technique to complement their jiu-jitsu practice.
If you're interested in trying Jiu-Jitsu, this is the perfect way to dive in! Sign up for a full 6-WEEK CHALLENGE!
Men, women and children alike start training jiu jitsu for different reasons. Some reasons may include: learning the art of jiu jitsu, self-defense, weight loss, the camaraderie of a team, a healthy family activity, exercise and more. The reasons people start jiu jitsu are personal for everyone. So, whatever your reason is for visiting our website, we would love to learn more about you and your reason/goals. Click below to start your journey and to see if we are the right team for you.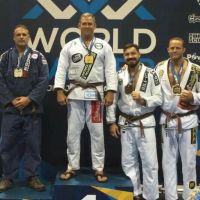 David Blau
"I highly recommend him as a Jiu Jitsu practitioner/instructor but more importantly as a person."
During my almost 20 years in practicing and competing in Jiu Jitsu I have met countless amazing people. Few,if any, have impressed me more than Alex Martinez. Not only has he been able to positively transform his health and lifestyle, but himself as a person. Alex always leads by example. Not only does he outwork anyone in the gym, he is not afraid to put it on the line in world class competitions as well. Many instructors are afraid to compete as they might lose and look weak in front of their students. Not Alex!! What you see is what you get!…. This may be why the people that train with him and learn from him absolutely LOVE HIM!… he always gives 100% both on and off the mats. No matter if it's in Jiu Jitsu, business, friends or his family, he is the man you want on your side. I highly recommend him as a Jiu Jitsu practitioner/instructor but more importantly as a person.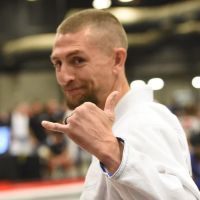 Joel Ellis
"All of the coaches at AEM are excellent, and the level of instruction is exceptional."
My family and I have been training at Ares East Mesa since their first official class in August 2020. We knew Professors Alex Martinez and Chris Academia previously but have grown to love and appreciate them, their families, and the rest of the coaching staff even more since beginning our journey at AEM. The instruction, training, and atmosphere at AEM is second to none. The coaches provide technical detail, personal instruction and encouragement, classes that are mentally and physically challenging, and a positive attitude and support that enable each student to pursue his or her full potential. Jiu-jitsu is one of the most powerful tools for self-defense, sport competition, physical fitness, and personal growth, but AEM provides its students more than just these outlets. They provide real community, friendship and relationships that challenge, stretch, build, and improve those who give themselves to the discipline and process.
All of the coaches at AEM are excellent, and the level of instruction is exceptional. Alex Martinez and Chris Academia are not only capable jiu-jitsu practitioners and experienced competitors but skilled teachers and communicators, a combination in BJJ that is rare and valuable. The curriculum is well thought out, designed to instill disciplined, technical fundamental skills in new students while challenging and improving intermediate and advanced practitioners. The coaches in the youth program are simply extraordinary. Our children receive personal instruction from current world champions and active competitors who not only know our children by name but love, encourage, and personally support them on and off the mat.
Our entire family is thankful to have been part of the AEM family since the first day. We have been blessed by the instruction, training, and community there. I cannot recommend the academy highly enough. If you are considering starting jiu-jitsu–and you should–or looking for a place to train, you cannot do better than Ares East Mesa. It is more than a place to gain fitness and fighting ability. It is a place to find family and a more disciplined, healthy, and productive way of life.
Rich Pudleiner
"A fantastic coach"
Alex has the heart of a leader, coach, and competitor and he brings that spirit out in anyone who trains with him. I have witnessed him work with all ages of youth and adults. He exhibits patience while expecting and teaching to improvement. I personally have benefited from Alex's ability to coach broadly and with technical accuracy, and my children have excelled in BJJ through his coaching and feedback. I can attest that he is genuine and wants the best for those with which he coaches and trains. If you are looking for a fantastic coach to start or further your jiu-jitsu journey look no further than Alex Martinez.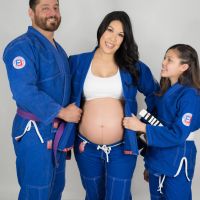 Vin & Marlena Vallejo
"Jiu jitsu has been a lifesaver for our family"
Jiu jitsu has been a lifesaver for our family for many reasons. It has not only brought us all closer, but it been such a positive activity we can all do as a family. It's been a form of therapy, and after each class we walk away feeling accomplished. I've never experienced that with any other sport or form of exercise. The practice of jiu jitsu teaches you discipline, responsibility and healthy lifestyle. One huge reason we have fallen in love with sport is because of the coaches we have trained under. Alex Martinez is exceptional. He is patient, hard working and makes everyone feel like they can do anything. He leads by example and believes in his students. Training jiu jitsu has been one of the biggest blessings to our family and we would highly recommend the sport to everyone.